About the BBAC
The origin of the BBAC begins in 1985, with the start of the Buzzards Bay National Estuary Program. The Buzzards Bay NEP, then called the "Buzzards Bay Project," is a unit of the Massachusetts Office of Coastal Zone Management. In 1987, the Project became part of the US Environmental Protection Agency's National Estuary Program. At that time, the Buzzards Bay NEP had a "Citizen Advisory Committee" or CAC that was part of the program, and was helping with the evaluation of pollution and identification of management options to protect and restore Buzzards Bay.
In 1987, this CAC broke off from the Buzzards Bay NEP and eventually became two independent, not-for-profit organizations. The first organization called itself the Coalition for Buzzards Bay (later renamed the Buzzards Bay Coalition). It was a '501(c)3' educational and outreach a citizen-based group. The second group became the Buzzards Bay Action Committee, now also a '501(c)3' organization, composed of municipal officials.
In 1997 and 2005, the BBAC signed Memorandum of Understandings (MOUs) with the Buzzards Bay National Estuary Program and the Buzzards Bay Coalition to improve collaboration, cooperation, and coordination of actions among the three organizations in their shared goals to protect and restore water quality of Buzzards Bay and its surrounding watershed.

1997 Buzzards Bay MOU
2005 updated Buzzards Bay MOU
The mission of the Buzzards Bay Action Committee is to improve collaboration among watershed municipalities and to expedite the exchange information and ideas that will enhance the region's ability to implement sound environmental regulations and by-laws to protect and enhance our mutual resource, Buzzards Bay. Read our entire mission statement. The Buzzards Bay Action Committee is a Commonwealth of Massachusetts recognized not for profit corporation representing the interests of Buzzards Bay municipalities and organized under these BBAC bylaws.
Past BBAC activities
During the past 20 years the Buzzards Bay Action Committee has focused on a wide range of issues. Early on, the BBAC led the effort to develop a local municipal oil spill contingency plan for Buzzards Bay and mutual aid agreements to better assist municipalities in their first response to an oil spill. Municipal first responders have long recognized they provide an essential role until federal and state agencies are able to respond to these emergencies. These early efforts included oil spill training exercises for municipal first responders, and support for better equipping of fire departments and other town departments that respond to oil spills.
Another highly successful BBAC initiative was the "Bilge Sock" program. With a grant from the Massachusetts Office of Coastal Zone Management, the BBAC provided free oil collecting bilge socks to recreational boat owners, in an effort to minimize the discharge of oil from boat bilges into Buzzards Bay. This effort garnered statewide and national attention, and led to similar programs throughout Massachusetts.
The Buzzards Bay Action Committee is also noted for having filed the 2000 application to EPA to designate all of Buzzards Bay as a boat waste no-discharge area.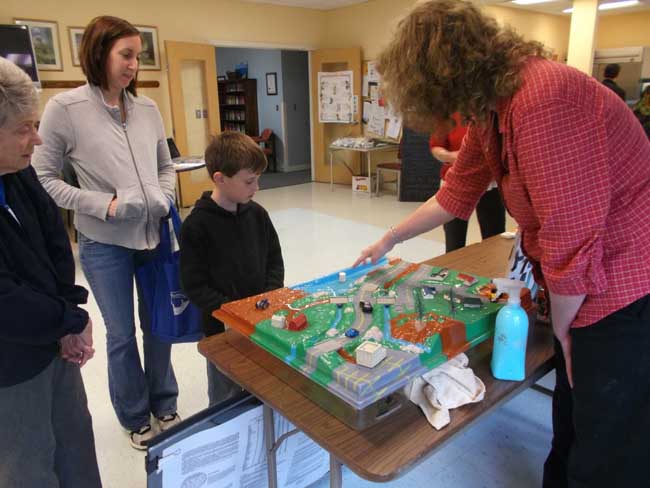 2015 Earth Day for Buzzards Bay Expo
The Buzzards Bay Action Committee held its third annual Earth Day for Buzzards Bay Expo on Saturday April 25, 2015, from 10:00 a.m. to 4:00 p.m. at the Fairhaven Senior Center. The event will include a variety of interactive exhibits and demonstrations on sustainable activities for a healthy lifestyle. There were also displays on what residents can do to protect Buzzards Bay and live lightly on the Earth. Presentations for adults and children included organic gardening, solar energy, native plants, toxin-free cleaning, geocaching, feeding wild birds, and more. Below are some pictures from last year's event. Click on the photos to enlarge.
The Buzzards Bay Action Committee and the Fairhaven Sustainability Committee also urges you to do your part for Earth Day 2015 and compost your yard and food waste, or use a rain barrel. Here is the compost bin order form. The order deadline is March 13th. More information of the benefits is contained in this compost bin poster. In addition, the Town of Acushnet is again holding a Rain Barrel Event. Use a rain barrel to save money, collect rainwater, and conserve energy. Here is the rain barrel poster and order form. The deadline is April 6.
For more information, contact Merilee Kelly, Town of Acushnet Conservation Agent at (508) 998-0202 or email Merilee Kelly.
Stormwater Mapping Collaborative for Buzzards Bay
A more recent endeavor of the BBAC was in working with the Buzzards Bay NEP and Buzzards Bay watershed municipalities to expand the BBNEP's stormwater atlas initiative to map every discharge and catch basin, and their associated drainage networks throughout the Buzzards Bay watershed. In 2005, the Buzzards Bay Action Committee received a Coastal Zone Management Non-Point Source Pollution Grant for $18,951 for its application titled Stormwater Mapping Co-Operative Program with Buzzards Bay municipalities. The Buzzards Bay NEP was a partner on this grant. Under this grant, the BBAC in partnership with the Greater New Bedford Regional Vocational Technical High School developed a detailed stormwater drainage network database to expand upon coastal areas mapped by the Buzzards Bay NEP described in the 2003 "Atlas of Stormwater Discharges in the Buzzards Bay Watershed." The goal of this effort was to map all stormwater drainage systems and discharges in the Buzzards Bay watershed. The information was made available on the Buzzards Bay NEP website late in 2006.
To support the mapping effort, in 2006 the Town of Acushnet, in collaboration with the BBAC, received a $23,500 grant from the Buzzards Bay NEP, to purchase tablet PCs and GPS units for the communities of Acushnet, New Bedford, Dartmouth, Westport, Fairhaven, Rochester, Mattapoisett, Marion, Bourne, Wareham, Carver and Plymouth who are participating in the expanded stormwater mapping program. This initiative will help towns better maintain their drainage systems, identify discharges causing water quality degradation, identify discharge points of road spills, and help towns comply with state and federal requirements to better manage stormwater discharges. Training for municipal officials on the use of the GPS units and tablet PCs was conducted in the summer of 2006.
Equal Employment Opportunity Ant-Discrimination Statement
The Buzzards Bay Action Committee is an equal opportunity employer and does not discriminate on the basis of race, color, national origin, sex, age, or disability.
This website was launched on October 3, 2012.